Save-the-date Aug 12-14 for our 5th Conference!
Join us for this year's #DivSch21 virtual conference.
Info about: Agenda | Logistics | Sponsorships | Registration
Past events: 2020 | 2019 | 2018 | 2017
Plenary Speaker Danielle N. Lee, PhD
#BLACKandSTEM Ecologies and Evolution: History and Future Trajectories of Online STEM Diversity Community, Engagement, and Advocacy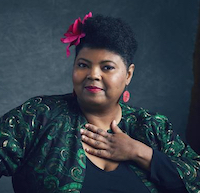 Plenary speaker Danielle N. Lee is an Assistant Professor of Biological Sciences at Southern Illinois University Edwardsville. Dr. Lee is an outreach scientist who studies animal behavior and behavioral ecology. Dr. Lee currently studies the behavioral biology and natural history of nuisance rodents across urban gradients. Her research includes examining individual behavior variation of mice and rats in the Metro St. Louis area and the natural history of African giant pouched rats. Her research and science outreach and advocacy have been recognized by The Explorers Club (2021), National Geographic Society (2017 Emerging Explorer), TED Fellows Program (2015), Essence Magazine Woke 100 (2019), EBONY Magazine's Power 100 (2014), and the White House Champions of Change in STEM Diversity and Access (2014). Follow her and her science adventures on Twitter or Instagram at @DNLee5.
Plenary Speaker Lisette E. Torres-Gerald, PhD
Diverse Networks, Numbers, and Narratives in Science Communication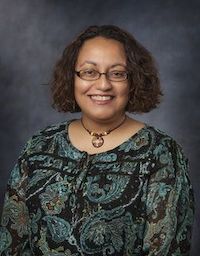 Plenary speaker Lisette E. Torres-Gerald (she/her/ella) is Senior Research Associate and Program Coordinator at TERC -- a research-based non-profit dedicated to inspiring and engaging learners. She is a trained scientist and disabled scholar-activist whose expertise includes race, gender, and disability in STEM and higher education; critical theoretical frameworks and qualitative methodologies; workshop and curriculum design; and writing pedagogy. She has a doctorate with a Certificate in Social Justice from the School of Education at Iowa State University and a M.S. in Zoology with a Certificate in Ecology from Miami University. Her doctoral thesis was "Speaking truth to power and to the people: Scientist bloggers of color as public intellectuals." She is interested in how power and privilege influence the social dynamics of the scientific community as well as the experiences of women of color in science. She is the Director of Justice and Disability in STEM for the Equity Institute for Race Conscious Pedagogy. Torres-Gerald is also a co-founder and executive board member of the National Coalition for Latinxs with Disabilities (CNLD) and an advisory board member of Science Friday's Breakthrough Dialogues Program.
---
Agenda (a)
All attendees, speakers, sponsors, staff, and volunteers at our event are required to comply with this Code of Conduct.
Tentative agenda below. More sessions to be announced. Topics under consideration include:
Designing Your First Grant Proposal
Mentor-Mentee Training
Networking for Your Job Search: Linkedin & More
Sponsors contact us with your topic ideas.
Thursday August 12
| Time | Session | Speaker(s) |
| --- | --- | --- |
| 10-11:30am | Welcome & Attendee Introductions | Roca & Krug |
| 12-1:30pm | Postdoc Fundamentals | Roca |
| 2-3:30pm | Academic Careers | Krug |
| 2-3:30pm | Policy & Administrative Careers | Singh & Bankston |
| 2-3:30pm | Industry Careers | Lindstaedt |
Friday August 13
Saturday August 14
 
Notes:
a) All times are Pacific time zone.
b) For plenary talks, best to use Firefox browser.
c) Registered attendees should check your email for sign-up instructions. Each appointment is 25 minutes long with a 5 min speaker break so meetings should start every half hour.
Speakers & Facilitators
More to be announced.
Alberto Roca, PhD, Conference Chair
Executive Director; DiverseScholar
Adriana Bankston, PhD
Chief Executive Officer & Managing Publisher
Journal of Science Policy and Governance (JSPG)
Edward Krug, PhD
Assoc. Dean for Postdoc Affairs (retired)
Medical University of South Carolina
Board of Advisors, DiverseScholar
Danielle N. Lee, PhD
Assistant Professor of Biological Sciences
Southern Illinois University Edwardsville
Bill Lindstaedt, MS
Asst. Vice Chancellor; Career Advancement, International & Postdoctoral Services
University of California, San Francisco
Harinder Singh, PhD
Program Director, Graduate Professional Success in STEM (GPS-STEM)
University of California, Irvine
Lisette E. Torres-Gerald, PhD
Senior Research Associate and Program Coordinator
TERC
---
Logistics
When: August 12 to 14, 2021
Where: online! Registered participants will receive instructions by email.
Registration for the Public
The plenary talks are open to the public. Please register for the seminars at each talk's webpage using the "Save my spot!" button.
Registration for Postdocs and PhD Graduate Students
The non-plenary sessions are limited to PhD trainees drawn from existing members of the following:
DiverseScholar Doctoral Directory: instructions in spring/summer email newsletters
MinorityPostdoc email list: instructions to join Doctoral Directory in spring/summer newsletters
Special Partners: Southern California SACNAS chapters; UC-Irvine GPS-STEM
Registration deadline: Friday August 6
---
Sponsors and Partners
University of California, Irvine School of Biological Sciences
Stanford University Office of Postdoctoral Affairs
Sponsorship and Exhibitor Rates (d)
Contact us to arrange your sponsorship!
| | | | | | | |
| --- | --- | --- | --- | --- | --- | --- |
| Sponsorship Level: | - | One | Two | Three | Four | Five |
| Cost: | $100 | $250 | $300 | $1K | $2.5K | $5K |
| Registrations (#) | 1 | - | 1 | 1 | 2 | 4 |
| Listing: Event webpage | - | Y | Y | Y | Y | Y |
| Recognition @ welcome | - | - | - | Y | Y | Y |
| 1-year advertisement | - | - | - | Y | Y | Y |
| Candidate database- Platinum | - | - | - | - | Y | Y |
| Candidate db w/CVs- Diamond | - | - | - | - | - | Y |
 
Notes:
d) Sponsorship benefits subject to change without notice. At Level 3 and higher, there is no discounted conference sponsorship since the event is virtual. This is because those sponsorships are also tied to Institutional Subscriptions, e.g. Level 3 sponsorship is equivalent to a Gold Subscription, and includes advertisements on the MinorityPostdoc website as well as access to the Doctoral Directory CV database.
In event of cancellation by July 23, a full refund less a 5% processing fee will be issued. No refunds will be made for cancellations after that date.
Photo credits:
Lee: TED
Torres-Gerald: Torres-Gerald