Clinton Parks, Stacey Glasgow, Edward Krug, and Alberto I. Roca
Reporting on the #NPA2021 Chalk Talks session.
When drawing illustrations and schematics during "chalk talks," postdocs and Ph.D. trainees should channel their inner Bob Ross, according to Edward Krug, professor emeritus at the Medical University of South Carolina. Ross, the host of the PBS' The Joy of Painting, focused on clarity over detail when illustrating trees in landscapes. It's this mentality that Krug advised young scientists to emulate in their chalk talk presentations.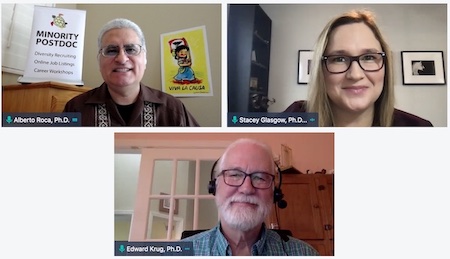 Whether giving a seminar or applying for a job, communicating your work is essential for scientists. Despite their importance, these chalk talks (typically on whiteboards) are an oft-neglected part of a postdoc's training.
With that in mind, the non-profit DiverseScholar presented a professional development session at the 2021 annual conference of the National Postdoctoral Association (NPA). Krug presented about the five-minute "pitch" chalk talk. Stacey Glasgow, an assistant professor at the University of California, San Diego, described the longer faculty interview chalk talk.
A recent survey of faculty hiring committees revealed the importance of this presentation skill [Hsu et al 2021]. A faculty member commented that "the chalk talk is where we really learn about [the job candidate's] understanding of their work and how they see their work intersecting with the faculty here." Also, "the chalk talk is the major separator -- some people give beautiful [seminar] presentations but go down in flames during the chalk talk." Therefore, DiverseScholar is publishing resources about chalk talks on their MinorityPostdoc career portal as well as having postdocs practice this skill at the annual DiverseScholar Postdoctoral Conference [Rodriguez & Roca 2017].
Both types of chalk talks are centered around the presenter's research. What is the problem being studied? What are the field's knowledge gaps? What is your hypothesis and how will you test it? How will the results advance the field?
Both formats also use illustrations, whether a drawing, diagram, or flowchart. Practice drawing in real time while keeping your audience's attention with eye contact, Krug said. "As you're giving your verbal discussions, refer back to your illustration."
some people give beautiful [seminar] presentations but go down in flames during the chalk talk
A Brief Pitch
The pitch chalk talk is distinguished by its simplicity and brevity. Avoid using jargon and too much detail, unless asked, Krug said. Anticipating who's in your audience, which is much broader than for the faculty job chalk talk, helps you anticipate questions. "Questions are great," Krug said. "It means they're following you or they want to follow you." The pitch chalk talk helps you network and solicit feedback about grant ideas. It shows how you "think on your feet," Krug said.
You should tell a story - a story with a memorable last sentence - he said. And no matter what, keep within the allotted time. Krug recommended using abstracts on the National Institutes of Health's RePORTER and the National Science Foundation's AwardSearch databases as examples of how to condense your work. Also, a guidebook from the Burroughs Welcome Fund has helpful tips for giving short scientific talks.
At Faculty Job Interviews
Brevity is not a concern for faculty interview chalk talks since times can vary from 40 minutes to two hours. Glasgow recommends that you email the search committee facilitator beforehand to ask about the media format being used (e.g. whiteboard), the time allotted, photos of the room layout, and who will be in attendance to anticipate their likely questions.
As a prospective faculty member, you are expected to talk through a few experiments. "The committee should be able to understand the scientific questions you are asking and what your first grant application will be based on," Glasgow said. For her talk, she planned out four projects: two NIH R01 grants in great detail and two more free-flowing ideas. Each experiment should include an introduction, rationale, methods, expected results, concise descriptions of questions being addressed, and an expected conclusion.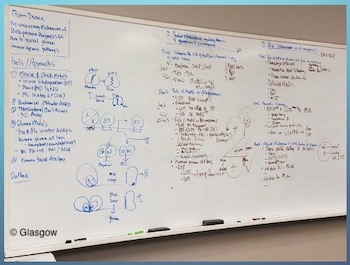 According to Glasgow, you are supposed to differentiate your research from your mentor. Besides your research plans, the audience wants to know where do you expect to secure funding from, how many people are needed in your research team, and would you be a good fit in the hiring department.
To plan for her talk, Glasgow prepared for months using outlines and study aids, and planning her illustrations. She practiced her talk alone and with different science-literate audiences who provided feedback. They taught her to focus on science competency over storytelling. Glasgow advises to exude confidence but not arrogance, "It's important not to be defensive," she says because there will be a lot of questions. Instead, consider it as a scientific exchange with colleagues. Finally, you're also expected to give a long-term vision, say the next ten years of where successful experiments will take your career.
Communication during a chalk talk, whether for 5 minutes or for 2 hours, should be clear to demonstrate your worth to the audience. They will not recall the details of your work. But, they may remember if they felt that the time was well spent watching you illustrate your ideas.
References
Burroughs Wellcome Fund (2010) Communicating Science Giving Talks guide
N.S. Hsu, K.P. Rezai-zadeh, M.S. Tennekoon, & S.J. Korn (2021) Myths and facts about getting an academic faculty position in neuroscience, Science Advances, 7:eabj2604
B.A. Rodriguez & A.I. Roca (2017) DiverseScholar Conference Preps Underrepresented Postdocs for Faculty Jobs, DiverseScholar, 8:2
Photo/Figures
(top) NPA Chalk Talk panel with Roca (top left), Glasgow (top right), and Krug (bottom). (Credit: Roca)
(bottom) Example faculty job chalk talk illustration. (Credit: Glasgow)
Citation
C. Parks, S. Glasgow, E. Krug, and A.I. Roca (2021) Make a Simple Tree: Chalk Talks for Postdocs. DiverseScholar 12:1
Clinton Parks is a Washington, DC-based freelance science writer who has written for AAAS' ScienceCareers, the American Chemical Society's Axial, and the American Physical Society's Physics Buzz, among others. Stacey Glasgow, PhD is an Assistant Professor of Neurobiology at the University of California, San Diego. Edward Krug, PhD is Professor Emeritus at the Medical University of South Carolina. Alberto I. Roca, Ph.D. is the Founder and Editor of MinorityPostdoc.org. Any opinions expressed in this article are solely those of the authors.