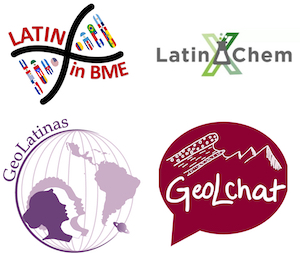 Have you ever wondered what it is like to learn new concepts in a language that is not your mother tongue? The language barrier for accessing knowledge is one that many Latinx people experience throughout their life, especially in science. Dr. Alberto Roca, the executive director of DiverseScholar was the moderator of a panel about this topic called "Communicating Science in Español: Reaching a Global Latinx Spanish Audience" at the 2022 ScienceTalk conference. Invited speakers were Dr. Ana María Porras from LatinXinBME, Dr. Maria Gallardo-Williams from LatinXChem, and Ph.D. candidate Carolina Ortiz-Guerrero from GeoLatinas and GeoLchat. The presenters discussed the barriers and accomplishments that these Latinas have witnessed in their STEM fields of biomedical engineering, chemistry, and the geosciences, respectively.
By way of introduction, Dr. Roca acknowledged the multiculturalism that exists in the Latin American population. Roca noted the importance of including indigenous communities, Afro-Latinx, Queer-Latinx, Asian-Latinx, and all intersectional identities, along with other languages beyond Spanish. In a related 2021 SciTalk panel about #BlackinSTEM, Mani Jade-Garcia mentioned how women are the ones doing the advocacy work and taking the initiative about representation and leadership in the sciences [Garcia & Roca 2021] and that is certainly the case for this panel on LatinxInSTEM.
Critiquing English Dominance; LatinxInBME Solution
"Scientific content in English is more dominant than any other language" says Dr. Ana Maria Porras, an Assistant Professor at the University of Florida and science communicator on Twitter (@AnaMaPorras). In a recent publication [Márquez and Porras 2020], Dr. Porras highlights the language barriers of knowledge access [Ramirez-Castañeda 2020] by describing that around 80% of SCOPUS indexed journals are published in English. This linguistic domination also harms science itself as knowledge that is not in English gets lost in the process of publication and communication. Dr. Porras's paper discusses three topics about this barrier. First, how to expand access to scientific information. Second, how to train people to be able to communicate information in their native tongues. Third, grassroots efforts are increasing access to scientific technology and engineering knowledge worldwide. While talking about their proposed solutions, Dr. Porras emphasized the importance of multilingualism and how it is not only a direct translation of information in multiple languages, but also encompasses the multicultural context of the science and scientists. By targeting cultural aspects, scholars can make the knowledge more relevant to different groups. A successful example was the COVID-19 vaccination campaign called "Aquí Nos Cuidamos" by Ciencia Puerto Rico that is a model of inclusive science communication [Feliu-Mojer 2022].
social media builds bridges for Latinx scientists
Dr. Porras also described LatinxInBME, a virtual Latinx biomedical engineering community that was founded by her and Dr. Brian Aguado, Assistant Professor at the University of California, San Diego. The group connects over 300 individuals across national and institutional boundaries to support each other. Bioengineers from undergraduates to professionals are welcome to participate in events such as the virtual seminars that feature their members. The online relationships catalyzed by social media are reinforced by the LatinxInBME in-person meet-ups occuring at annual conferences such as the Biomedical Engineering Society where LatinxInBME coordinated the Latinx Voices in Biomedical Engineering seminar.
LatinXChem
Back in 2020, "no matter where participants were, they could come together and discuss their research together" explains Dr. Maria Gallardo-Williams about the virtual LatinXChem event. Dr. Gallardo-Williams, a teaching professor at North Carolina State University, co-led the education section of the online poster competition. She explained how with the pandemic closing everything, it was the right opportunity to create a space on Twitter (@LatinXChem) for the Latin American chemistry community to come out and share their science. Starting in 2020, the virtual conference took place every Fall; and, there was no restriction for how students could present their posters online. The 1-day event had posters in multiple languages including Spanish, Portuguese, English, and also indigenous writing. "The quality of the science that is coming from Latin American scientists is really high, even though the difficulty with access and resources is remarkable" says Gallardo-Williams. The first conference had more than 1,200 posters from over 43 countries and over 20 million Twitter impressions. This conference increased the visibility of science produced by Latinx chemists all over the world.
GeoLatinas and GeoLchat
On the panel, the geosciences were represented by Carolina Ortiz-Guerrero, a Ph.D. candidate at the University of Florida, member of GeoLatinas, and co-founder of GeoLchat. GeoLatinas is a community of hundreds of students and professionals with the mission of amplifying the work of Latinas in the Earth and planetary sciences. The organization started on Twitter (@GeoLatinas) and now has more than 10,000 followers and community-driven initiatives such as podcasts, blogs, seminars, and other activities that are focused on mentoring, professional and personal development, and networking.
"We took that hard science and translated it to a digestible content that any person could understand" says Ortiz-Guerrero about GeoLchat, a science communication initiative created by three Colombian geoscientists [Ortiz-Guerrero et al 2022]. By using social media tools such as Instagram and Twitter (@GeoLchat), science communication no longer has to be just unidirectional like a seminar lecture. Instead the content creator can use the platform to interact with an audience in a multidirectional manner. The goal of the GeoLchat initiative is to move beyond just providing English-to-Spanish translated scientific content and instead to make the science accessible to a broader (Latinx) audience. For example, they have critiqued how the geosciences are represented in TV and film in the GeoLchat Geollywood YouTube videos and have also discussed over Instragram about how climate change is affecting hurricane intensity.
LatinxInSTEM at ScienceTalk
Dr. Roca produced the "Communicating Science in Español" panel for the sixth annual ScienceTalk conference that for 2022 was hybrid occurring both online and in-person in Portland, OR. The conference organizers this year have rebranded their parent organization as the Association of Science Communicators. The LatinxInSTEM focused topic was one of the plenary sessions available to the nearly 300 registered attendees of the conference.
Throughout the discussion, the panel emphasized the inclusion of languages beyond Spanish and how communicators need to diversify the languages used for publishing scientific content. An inspiring example was a 2021 LatinXChem poster from an Ecuadorian scientist who had translated the periodic table into their own indigenous language [Andino-Enríquez 2022]. "This the kind of thing that you will not see anywhere else but this [LatinXChem] conference" explained Dr. Gallardo-Williams. She continued that their event "provides the space and opportunity to show and appreciate that work."
As many of these initiatives occurred using social media, the panel reflected on how these platforms help to create a community. An online virtual space can make a #LatinxInSTEM person feel less isolated when they are in a place where not that many people look like you, understand your native language, or share your culture. Social media builds bridges for Latinx scientists who can be overlooked but want to connect and participate in their comunidad.
References
J.E. Andino-Enríquez, M.A. Andino-Enríquez, F.E. Hidalgo-Báez, S.P. Chalán-Gualán, S.D. Gualapuro-Gualapuro, S. Belli, and M.B. Chicaiza-Lema (2022) Adaptation of the Periodic Table to Kichwa: An Ecuadorian Native Language. Journal of Chemical Education 99(1):211-218
M. Feliu-Mojer (2022) Advancing Inclusion Through Culturally Relevant Science Communication: a Perspective from Puerto Rico. Journal of Science Communication 21(07), C04
M.-J. Garcia & A.I. Roca (2021) New #BlackInSTEM Communities Celebrate and Support Black Voices. DiverseScholar 12:2
M.C. Márquez & A.M. Porras (2020) Science communication in multiple languages is critical to its effectiveness. Frontiers in Communication, 31
C. Ortiz-Guerrero, L.C. Pérez-Angel, D. Muñoz-Granados (2022) GeoLchat: A bilingual Science Communication Experiment of Three Colombian Geoscientists, EGU Blogs: Geodynamics division, February 16
V. Ramírez-Castañeda (2020) Disadvantages in preparing and publishing scientific papers caused by the dominance of the English language in science: The case of Colombian researchers in biological sciences. PLOSone 15(9): e0238372
Photo/Figures
The #SciTalk22 #LatinxInSTEM panel (clockwise from top left): moderator Dr. Alberto Roca; Dr. Maria Gallardo-Williams (LatinXChem), Carolina Ortiz-Guerrero (GeoLatinas/GeoLchat), and Dr. Ana Maria Porras (LatinxinBME).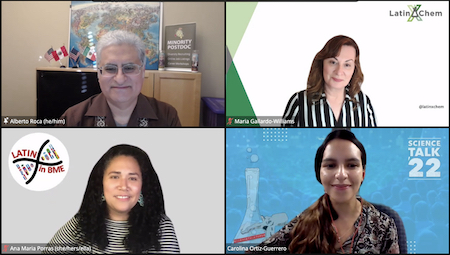 Image credits:
(top) LatinxInSTEM logos (clockwise from top left): LatinxinBME, LatinXChem, GeoLchat, and GeoLatinas. (Credit: each respective organization)
(middle) Screenshot of GeoLchat Geollywood YouTube video. (Credit: GeoLchat)
(bottom) #SciTalk22 #LatinxInSTEM panel. (Credit: Roca)
Citation
L.C. Pérez-Angel & A.I. Roca (2022) How Latinx Scientists are Breaking Communication Barriers in STEM for Our Comunidad. DiverseScholar 13:3
Lina C. Pérez-Angel is a Voss Postdoctoral Researcher Associate at the Institute at Brown for Environment and Society and the Department of Earth, Environmental, and Planetary Sciences at Brown University, a Ph.D. graduate of University of Colorado at Boulder, and an alumnus of the Universidad de Los Andes, Bogotá, Colombia. She is a co-founder of GeoLChat. Alberto I. Roca, Ph.D. is the Founder and Editor of MinorityPostdoc.org. Any opinions expressed in this article are solely those of the authors.