Mani-Jade Garcia and Alberto I. Roca PhD
Reporting on the #SciTalk21 #BlackInSTEM session.
"For me, all of these groups represent a big tree of soothing that is long in coming."
The words above are from psychotherapist, researcher, and science communicator Mani-Jade Garcia in reference to the explosion of new #BlackInX groups on social media during 2020 [Mallenbaum 2020]. Garcia shared these thoughts as part of the panel SciComm Diversity Lessons from #BlackInSTEM Events which took place in March at the Science Talk 2021 conference about science communication (SciComm). DiverseScholar Executive Director, Alberto Roca, produced the panel and invited organizers from the #BlackInSciComm, #BlackInNeuro, and #BlackInMentalHealth communities to discuss how their efforts celebrate diversity in STEM, promote social justice, and demonstrate science communication strategies for reaching an audience of minoritized people.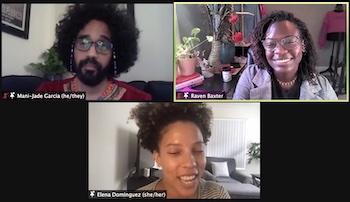 The #SciTalk21 panel consisted of Garcia, co-founder of #BlackInMentalHealth, science communicator and molecular biologist Dr. Raven Baxter (AKA Raven the Science Maven), founder of #BlackInSciComm; and Elena Dominguez, doctoral candidate in biological sciences, co-founder of #BlackInNeuro.
Roca introduced the panel with a brief history about the diversity in STEM stakeholders for the Black community that preceded the current social media catalyzed events. Starting in the 1960/70s, multiple field-specific STEM organizations were founded to support Black scholars such as the Association of Black Psychologists, the National Organization of Black Chemists and Chemical Engineers, and the National Society of Black Physicists. Many more such STEM diversity non-profit organizations are listed on the MinorityPostdoc website Stakeholders page. Such organizations used websites and social media in the 2000s to promote their annual conferences online. Independently, PhD trainees in the mid-2000s were using blogs to educate the public about science as well as to connect with other science communication (SciComm) bloggers. A prominent blogger was Dr. Danielle Lee who self-published a blog as a graduate student but went on to write part-time for the Scientific American blog network. Dr. Lee founded the Diversity in Science carnival blog series [Roca & Yoder 2011]. Finally, the #BlackAndSTEM hashtag campaign (created by Dr. Stephani Page in 2014) unified Black STEM scholars online leading to community fellowship as well as the introduction of virtual events [Zax 2014].
#BlackInMentalHealth
After this historical introduction, the panel was moderated by Garcia during the discussion. Garcia shared that the joy and excitement they experienced seeing the proliferation of new #BlackInX groups on Twitter during the difficult summer of 2020 was all the motivation that they needed to join with a few others (in response to a tweet by co-founder Zori Amber) in founding Black in Mental Health. The aim was highlighting Black excellence in mental health throughout the world. #BlackInMentalHealthWeek (September 20-26, 2020) was created to highlight and pull together people who have always been present in mental health fields but have not been recognized and appreciated by self-proclaimed field leaders. Garcia added that it was important to the co-founders to include the community in their efforts, in response to a long history of misrepresentation of the sciences, including mental health, as belonging to a certain set of people in certain station in life. "We all have a rightful presence in the sciences," Garcia stated, while expressing appreciation for how #BlackInX groups have helped open engagement in the sciences to the public.
[#BlackInX groups] have a rightful presence in the sciences
#BlackInSciComm
"Last year was a really tough year for Black people," added Baxter, who was prompted to found #BlackInSciComm when noticing how especially tired she and other Black people were at the end of summer 2020 - after months of "screaming to the world, 'We matter. Give us a break. Protect us.'" Baxter added that the group was started as a resource, but more so a retreat for Black voices in science to regroup and remember their passion for science, while survival demands they use their voices to advocate for their lives and health.
#BlackInSciCommWeek (October 4-10, 2020) was the result of Baxter's desire to provide a virtual environment that included opportunities: to attend workshops on best practices in SciComm; to congregate and share lived experiences; to see inspiring speakers active in SciComm; to gather information on career paths; to participate in sponsor funded mini projects; to win mini science communication grants; and to participate in a multimedia science communication competition with cash prizes. Baxter explained that her goal was to "make a place where we could recenter, recharge, and then get back out there and focus on the science," along with other vital things. She added that most importantly, a lasting community of people who really care about each other was built during #BlackInSciCommWeek.
#BlackInNeuro
#BlackInNeuro started as a grassroots movement by and for folks in neuroscience related fields and SciComm, with the specific aim of amplifying and supporting Black voices in STEM, explained Dominguez. "We were tired. I can't say that enough," she stated, echoing Baxter's words about the impact of the egregious social injustices flooding the news the summer of 2020 - compounded by the lack of representation in academic departments. Inspired by seeing other #BlackInXGroups, Angeline Dukes, founder and president of #BlackInNeuro posted a tweet and around twenty-three people responded. They formed a Slack group, "and the rest is history." Black in Neuro Week (July 27 - August 2, 2020) and the Black in Neuro conference (October 31 - November 4, 2020) were curated to create a space and a network of peers for Black trainees—things academic institutions have been fumbling with for years.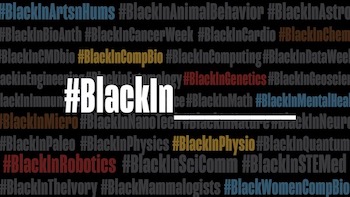 Throughout the discussion, panelists reflected on how taken aback they were by the tremendous international response to activity by #BlackInX groups: creating community and visibility for Black people who have felt needless isolation for too long; highlighting both the incredible leadership of Black women and the desperate need for others to step into leadership; emphasizing the tremendous salutary effects of professional communities where Black people can experience and share in joy and freedom of expression, celebrate their strength, and build far reaching partnerships and networks.
References
C. Mallenbaum (2020) #BlackBirdersWeek, #BlackInNeuro: Black scientists, physicians are using hashtags to uplift, USA TODAY, August 4
A.I. Roca & J.B. Yoder (2011) Online LGBT Pride: Diversity in Science Blog Carnival. DiverseScholar 2:1
D. Zax (2014) BlackAndSTEM: The Hashtag as Community. Fast Company, March 4
Photo/Figures
(top) ScienceTalk BlackInSTEM panel with Garcia (top left), Baxter (top right), and Dominguez (bottom). (Credit: Roca)
(bottom) Collage of #BlackInSTEM hashtags. (Credit: Stayl98 for DiverseScholar)
Citation
M.-J. Garcia & A.I. Roca (2021) New #BlackInSTEM Communities Celebrate and Support Black Voices. DiverseScholar 12:2
Emmanuel "Mani" Garcia, MA, MPhil is is currently completing his doctorate in Clinical Psychology. Mani-Jade is co-founder of Black In Mental Health (@BlackInMH), Black In Data (@BlkInData), and founder/director of Refuge Workgroup (@RefugeWorkgroup) a movement dedicated to bringing safety, accountability, and healing to academic and professional spaces. Alberto I. Roca, Ph.D. is the Founder and Editor of MinorityPostdoc.org. Any opinions expressed in this article are solely those of the authors.