On October 29, 2016, in a building built by missionaries on Apache land, a Mexican science journalist named Emiliano Rodríguez Mega asked a question: Why are we still talking about diversity?
The short answer is: Science writing still does not represent the diversity of the people that it serves.
Rodríguez Mega was speaking at Science and Health Journalism Diversity panel as part of the ScienceWriters2016 conference. Other speakers included CNN's Jacqueline Howard, freelance journalist Mallory Black, biologist and science blogger Danielle Lee, and DiverseScholar Executive Director Alberto Roca. The panel focused on racial diversity (or the lack thereof) in science communication and what can be done about it. See below for a Storify archive of this #SciCommDiversity session's tweets [Roca 2016].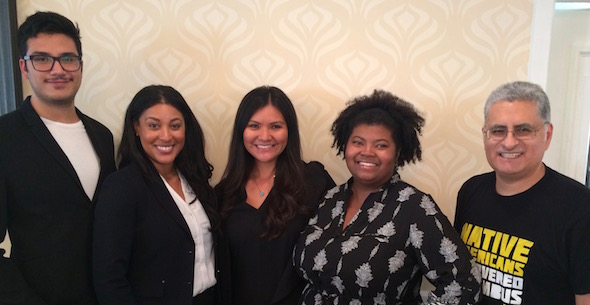 The stakes are high. Much of the information citizens need to make choices about their health never reaches minority communities simply because science reporters either do not know how or do not take the time to reach out to minority communities.
Alberto Roca, PhD, kicked off the panel by highlighting a DiverseScholar initiative, called the Doctoral Directory, which gathers resumes and contact info of scientists from minority groups. Although the primary purpose of the initiative is to help institutions reach out to potential job candidates, the directory could double as a resource for journalists who want to include more minority researchers. "If anyone needs a source, I literally have a binder full of postdocs!" Roca quipped.
Next up was Mallory Black, representing the Native Health News Alliance. There's a shortage of health coverage "for and by Native Americans" despite the high rates of obesity and mental health problems. The Native Health News Alliance aims to fill that gap by publishing stories in conjunction with outlets that serve First Nations communities, Black said. However, spreading the word through these communities can be tough. Black pointed out that out of 567 tribes in the United States, less than half have newspapers, and many homes on reservations don't have internet access. One work-around is asking tribal radio stations to read health stories on the air.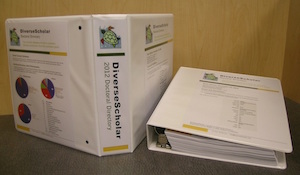 At the same time, more can be done to integrate Native people's perspectives into mainstream science and health coverage. One factor that many science writers tend to forget is that Native Americans tend to distrust science and healthcare authorities. The distrust traces back to forced migrations such as the Cherokee Trail of Tears and failed government policies that promised to help Native Americans but did not. The narrative of "science as unalloyed progress" can alienate many minority communities. Instead, Black recommended reaching out to doctors who have experience in both "scientific" Western medicine and in traditional native medicines and asking for their perspective.
Jacqueline Howard focused more on advice for people who are already embedded in or breaking into newsrooms. It is important for young reporters — especially reporters from minority groups — to hear that "you have a voice and you do belong here" from editors and mentors. Howard did not seek out health as her signature topic; but, when an editor told her, "I think you can handle it," she embraced the health beat.
It is not unusual for editors to run stories pointing out that health problem X is common in demographic Y or Z; but, journalists rarely dig deep while covering those stories, Howard said. Minority journalists can help by using their knowledge of their communities to add color and depth to stories.
Another point where minority journalists can make a big impact is in pointing out implicit biases, Howard said. Because everyone has a set of implicit biases, it is up to staff journalists to point out their colleagues' and bosses' blindspots and propose new angles on stories.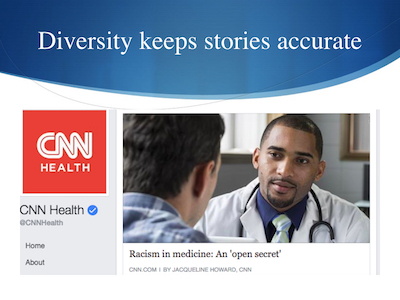 Danielle Lee, PhD, who blogs at The Urban Scientist, argued that scientists from minority groups also have a vital role to play. "We speak science; and, we speak the relevant cultural metaphor," she said. "We can act as translators."
Lee emphasized that when it comes to science news, minority communities are "not only underrepresented but also underserved." Key pieces of scientific information about topics like climate change and healthcare often never reach middle-class minority groups, let alone low income ones. Lee urged the minority science writers in the audience to stick with it and to pitch narrative longform stories. Many outlets that serve minorities do not have science sections, Lee pointed out; but, another strategy might be integrating science stories into sections that minorities do pay attention to such as the sports section.
Rodríguez Mega closed out the panel. Despite the fact that Latin America includes 20 countries, science media overwhemingly focus on U.S. science. Rodríguez Mega highlighted an article by Federico Kukso about how the underrepresentation of Latin American scientists persists even in coverage of Latin American fossil discoveries [Kukso 2016]. However, this lack of coverage can change. When reporters are covering stories that take place in the Peruvian Amazon, including a Peruvian source or two should not be optional, Rodríguez Mega argued.
paragraph_blockquote
minority communities are…underrepresented [and] underserved
There are relatively few Latin American journalists who specialize in science, meaning there are a lot of environment and lab science stories going unreported. Rodríguez Mega noted that some of the best coverage on Latin American science he had seen was written by white journalists. Thus, there is no reason why existing science newsrooms ca not make more of an effort to cover Latin American science and environment stories. However, editors also need to reach out to homegrown Latin American journalists to cover stories in their region. Professional journalist organizations in countries like Argentina, Chile, and Mexico can be points of contact there.
Rodríguez Mega also observed that the power structure is subject to change. Science reporters can change it simply by shifting their coverage and seeking more sources from minority groups.
References
T. Hansen (2014) Science, Health, and Environmental Reporting for Indian Country, DiverseScholar, 5:6
J. Howard (2014) A Tough Newsroom Discussion: Why Diversity Is Needed In Science Journalism, DiverseScholar, 5:3
F. Kukso (2014) The Ferocious Dinosaur and the Invisible Scientists, Undark, July 25
D.N. Lee (2013) Promoting Science to Under-served audiences and understanding push-pull market forces of news, The Urban Scientist, January 8
A.I. Roca (2016) #SciWri16 #SciCommDiversity, Storify, October 30
E. Rodriguez Mega (2015) Is America Latina Present in Science Journalism? DiverseScholar, 6:7
C.B. Sumners (2016) ScienceWriters Meeting Coverage: Practical Strategies for Science & Health Journalism Diversity, ScienceWriters, October 31
Photo/Figures
(top) SciCommDiversity panel (left to right) Rodríguez Mega, Howard, Black, Lee, and Roca. (Credit: A. Roca)
(middle) Can the DiverseScholar Doctoral Directory be used to diversify science journalist's sources? (Credit: A. Roca)
(bottom) Howard's slide about diverse perspectives keeping stories accurate. (Credit: J. Howard)
Citation
D. Crow (2016) Diversity Advice for Science Communication-Journalism. DiverseScholar 7:6
Editor's Note
Diverse Scholar is now publishing original written works. Submit article ideas by contacting us at info@DiverseScholar.org. This work is licensed under a Creative Commons Attribution-Noncommercial-No Derivative Works 3.0 Unported License.

Originally published 31-Dec-2016.