Neuroscience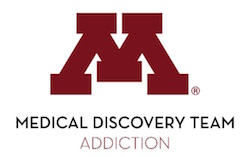 The University of Minnesota Medical School is seeking candidates for tenure-track (Assistant Professor) or tenured (Associate or Full Professor) faculty appointments as part of a multi-departmental endeavor across the Medical School to work in the field of addiction. The overarching vision is to link basic and translational research to new therapeutic approaches for addiction. The State of Minnesota has appropriated significant funds over the next six years for the University of Minnesota Medical School to create the Medical Discovery Team (MDT) on Addiction - a world-class, neuroscience-based program for the study and treatment of addiction.
In two previous hiring rounds, the MDT on Addiction recruited outstanding faculty with expertise in addiction-relevant areas, including the neural circuitry of addiction, mechanisms of drug craving, reward and relapse, role of stress and emotional-regulation, and decision-making. For this third round, we are particularly interested in individuals whose research programs include a focus on molecular pharmacology, receptor biology, medicinal chemistry, computational psychiatry, epigenetics, or novel approaches to prevention and treatment of addiction. The overall vision is to promote synergy across disciplines to advance discovery and new therapies. Both basic scientists and physician-scientists from diverse disciplines, including neuroscience, neurology, pharmacology, psychiatry, radiology, medicinal chemistry, and computational science are encouraged to apply.
The MDT on Addiction is integrated into the University of Minnesota's current faculty, who have research strengths inaddiction. The National Institute on Drug Abuse (NIDA)-based research funding currently stands at ~$15M per year. Funded research includes studies of psychostimulants, nicotine, and opioids. We serve as the NorthStar Node of the NIDA Clinical Trials Network - a national platform for pragmatic clinical effectiveness trials in addiction. A recently funded program aims to develop a vaccine against opioid addiction for clinical trials. In addition, addiction-based research is funded by the National Institute on Alcohol Abuse and Alcoholism (NIAAA), the National Cancer Institute (NCI) and the National Heart, Lung, and Blood Institute (NHLBI) at ~$12M per year. The University of Minnesota has a strong history of collaborative and transdisciplinary investigation in addiction research.
Additional strengths at the University of Minnesota include: the internationally-recognized Center for Magnetic Resonance Research - at the forefront of the Human Connectome project; the Institute for Therapeutics Discovery and Development with the resources and expertise to develop new drug therapies; the Clinical and Translational Science Institute, which provides resources to implement new treatment strategies and is a conduit to promote the community- wide understanding and application of scientific discoveries; and the MnDRIVE initiative, which supports research and translation relevant to neuromodulation for brain conditions. Minnesota is also the home of multiple biomedical research companies where the development of therapeutic approaches to addiction is a priority, and world-renowned hospitals and treatment centers for addiction. Leveraging University relationships with these resources throughout Minnesota will aid the team in achieving their goals.
Candidates must have a PhD and/or MD degree and must be a US citizen or be able to secure permanent resident status. Review of applications will begin August 31, 2019. Applications will continue to be accepted through October 30th, 2019. Applicants should include a curriculum vitae, a brief statement of their research interests, which contains their plans and enthusiasm for participation on the team, and names (with contact information) for three references. Electronic versions should be emailed to Dori Henderson (hend0054@umn.edu). Applicants also need to complete the online application. This may be found at humanresources.umn.edu/jobs by searching in the keywords field for 330876 for the Assistant Professor level and 330878 for the Associate or Full Professor level or by clicking on the links:
Additional questions can be directed to Dr. Mark Thomas (tmhomas@umn.edu). Go to www.med.umn.edu/addictionmdt for more information about the MDT on Addiction.
The University of Minnesota is an Equal Opportunity Educator and Employer