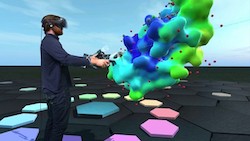 The Biomolecular Visualization project (BioMolViz) has been working for several years developing resources to improve the pedagogy of molecular visualization. The ultimate goal is to provide all biochemistry and molecular biology (BMB) educators with learning goals, objectives, along with assessments tools and activities to teach biomolecular visualization. These resources would be available through web pages accessible to BMB instructors. To date, we have outlined learning goals and objectives for twelve overarching themes encompassing biomolecular visual literacy through the BioMolViz Framework.
Attend a BioMolViz Summer Workshop
We are seeking new and experienced participants for ONLINE and IN-PERSON biomolecular visualization assessment writing workshops this summer. PLUS, we're offering an online Program Training workshop to learn the basics of any of the following modeling programs: iCn3D, PyMOL, or ChimeraX. Individuals can sign up for any combination of assessment and program training workshops.
Complete this interest form by May 2, 2022.
We look forward to seeing you at a workshop!
Option 1: In-Person Assessment Workshop and VR Experience
BioMolViz is excited to partner with Drs. Celeste Peterson and Melanie Berkmen at Suffolk University to offer participants a molecular modeling VR experience along with the BioMolViz assessment writing workshop.
Suffolk University, Boston, MA
June 9th (3 PM arrival) - June 12th (no events, hotel checkout)
The grant will cover transportation (airfare, mileage reimbursement, or other ground transportation), a private room for each participant, orientation dinner on Thursday, and all group meals Friday and Saturday. We request that our participants test for COVID-19 prior to traveling to the workshop.
Option 2: Online Assessment Writing Workshop
We will again be offering an online workshop, which includes a plenary speaker and a networking event.
June 21st, 23rd, 28th (on Zoom)
11 AM - 4 PM ET, mid-workshop hour long break
We ask that participants commit to attending the full three-day workshop. Participants who complete the three-day online assessment writing workshop will earn a $200 stipend.
Option 3: Online Program Training Workshop
Learn the basics of a new program for biomolecular visualization or brush up on one you haven't used in a while.
May 23rd and 25th (on Zoom)
This workshop will focus on effectively searching for PDB structures, and learning the modeling program of your choice: iCn3D, PyMOL, or ChimeraX. The benefit of this workshop is professional development for the participant, and there is no financial compensation.
Applicants who identify with historically underrepresented groups and/or who instruct at minority-serving institutions are especially encouraged to participate. If you have any questions, please contact info@BioMolViz.org.