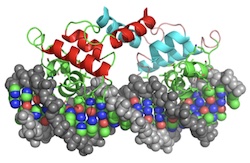 Want to learn a new program for biomolecular modeling? BioMolViz will be offering online half-day software training workshops on January 5 and 10. Depending on interest, iCn3D, PyMOL, ChimeraX, and Jmol trainings will be scheduled.
These trainings are designed for individuals with limited experience with these software tools. We will cover the absolute basics of these programs on Day 1 and move into some intermediate activities on Day 2. Participants will leave the workshop having produced an image to use in a lecture or assessment.
Apply here by December 8 (space is limited).
BioMolViz is an NSF-funded group of biochemistry and molecular biology scholars working to define biomolecular visualization (BMV) competencies and produce BMV assessments for undergraduates.