The Williams College Chemistry Department invites applications for a two-year postdoctoral fellowship. The Fellow will work closely with a faculty mentor on research and teaching endeavors, and we invite candidates in organic, polymer, inorganic, and biochemistry subfields to apply, including those whose interdisciplinary interests intersect with environmental chemistry.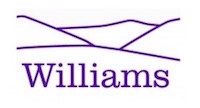 The fellowship begins on July 1st, 2020. Compensation includes an annual salary of $55,000, benefits, and modest funds for conference travel, research and scholarship. The Fellow will be expected to teach 2 courses or the equivalent each year, participate in departmental seminars, and interact regularly with students. Enthusiasm for teaching, mentoring, and advising undergraduates in both classroom and research settings is essential.
Williams College is a liberal arts institution with a long history of excellence in the sciences and an equal emphasis on research and teaching. The Chemistry Department, graduating about 35-40 majors each year, has extensive resources and facilities for teaching and research. Visit our website for more information about the department and facilities (chemistry.williams.edu) and FAQs on enabling teacher-scholars (chemistry.williams.edu/faq-teaching-in-chemistry/). Williams students come from 45 states and 90 countries, 49% of whom are female, 37% are students of color, 8% are international students, 17% are first generation students, and 50% receive financial aid.
Eligibility: Applicants must be U.S. citizens or permanent residents at the time of hire. The postdoctoral fellowship is intended for scholars who have been awarded a Ph.D. no later than the beginning of the fellowship year and no earlier than five years before the beginning of the fellowship year.
We welcome applications from members of groups traditionally underrepresented in the field and ask you to state in your cover letter how you will enhance the diversity of educational experiences in the department.
The deadline for applications is November 15th, 2019. Applications submitted thereafter will be considered on a rolling basis until the position is filled.
Williams College is a member of the Consortium for Faculty Diversity at Liberal Arts Colleges, which processes all applications for the fellowship via Interfolio. To apply, submit your on-line application using this link: apply.interfolio.com/61829. By submitting your dossier to Interfolio, you also may be contacted by other liberal arts colleges about additional fellowship possibilities. For other questions (e.g. teaching and laboratory opportunities), contact Professor Sarah Goh (Chair, Chemistry Department) via email sgoh@williams.edu or phone (413-597-4223).
All offers of employment are contingent upon completion of a background check. Further information is available here: dean-faculty.williams.edu/prospective-faculty/background-check-policy/.
Williams College is a coeducational liberal arts institution located in the Berkshire Hills of western Massachusetts. The college has built its reputation on outstanding teaching and scholarship, and on the academic excellence of its approximately 2,000 students. Please visit the Williams College website (www.williams.edu) for more information. Beyond meeting fully its legal obligations for non- discrimination, Williams College is committed to building a diverse and inclusive community where members from all backgrounds can live, learn, and thrive.