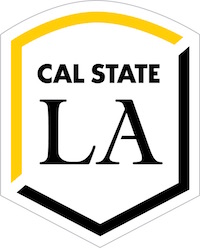 The College of Engineering, Computer Science, and Technology (ECST) at California State University, Los Angeles invites applications for tenure-track faculty positions in Mechanical Engineering, Civil Engineering, Electrical Engineering, and Computer Science, Aviation Administration, as well as for a Visiting Professor in Engineering Education. More detail on each position as well as application information can be found at www.calstatela.edu/ecst/faculty-search.
ECST offers ABET-accredited BS programs in Computer Science and Civil, Electrical, and Mechanical Engineering as well as BS degrees in Industrial Technology, Aviation Administration, Fire Protection Administration and Technology, and Graphic Communications. The College also offers Master of Science degrees in Computer Science, Civil, Electrical, and Mechanical Engineering, Materials Science and Engineering, and Industrial Management.
California State University, Los Angeles (Cal State LA) is the premier comprehensive public university in the heart of Los Angeles and is ranked number one in the United States for the upward mobility of its students. Founded in 1947, the University is located just minutes from downtown Los Angeles, adjacent to the San Gabriel Valley, and serves more than 28,000 students who reflect the rich ethnic and racial diversity of the area. As a federally recognized Hispanic-serving and Minority-serving institution, Cal State LA recognizes the transformative power of education and embraces its duty to identify and serve the needs of all of its students.
Application information can be found at: www.calstatela.edu/ecst/faculty-search
In addition to meeting fully its obligations under federal and state law, Cal State LA is committed to creating a community in which a diverse population can live, work and learn in an atmosphere of tolerance, civility and respect for the rights and sensibilities of each individual. To that end, all qualified individuals will receive equal consideration without regard to economic status, race, ethnicity, color, religion, marital status, pregnancy, national origin or cultural background, political views, sex, sexual orientation, gender identification, age, disability, disabled veteran or Vietnam era veteran status.